CALL US TODAY!
973-536-2220
Since 1986 The Arctic Chiller Group Has Been Building Built To Order Premium Chillers For All Industries, Notwithstanding The Medical Industry. Engineered Air Solutions Is Your Local Dealer For Full Support From Fielding Your Technical Questions, Parts And Service And All Post Support.
While all chillers maintain constant temperature for a system, many aspects must be considered for it to work properly. With Medical System Chillers (MRI, CAT Scan, Linear Accelerator, etc),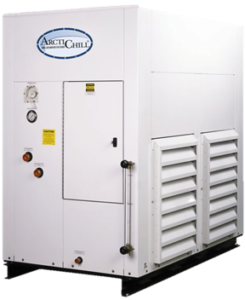 the machine itself would come with a prepackaged chiller matched to the required unit specification. The ArcticChill medical chillers will meet or exceed  those OEM requirements.
The ArctiChill Medical Chillers Medical Chillers offer the following:
Packaged Air Cooled,  Split Chillers, and Water-Cooled Models. We can also match water cooled units to fluid coolers and a chilled water only system is available.
Redundant Compressors and Redundant Refrigeration Systems. Units are available with dual compressors/dual circuits to allow the chiller to "limp" should a component have an issue. ArctiChill also offers 2 complete chillers in box to allow true redundancy with the smallest footprint possible!
Modulating compressors are an offered option for premium of capacity control. In many cases an older chiller likely didn't have this. Modulating compressors will allow a better load match (ie, if the load is 67%, the chiller will produce 67% rather than depend on hot-gas bypass or cycling). A better match uses less energy. Efficient!
Head Pressure control. Our chillers can run 24/7/365 days, from under 0F to 100+F ambient. Premium flooded condensers (condensers are filled with refrigerant to guarantee the proper head pressures at sub-freezing conditions) are a standard option
Automatic city water switch-over Panel (ACWS). Should there be a catastrophic failure (including a power loss), the chiller can allow the house water to keep the medical system cool.
Pump and Piping packages. The chiller can be furnished with single or dual lead/lag pumps, pressurized reservoir, and all the required sensors for optimum operation. Fresh Water or Gylcol systems are available to match your application
Controls. We offer a full "English" display to offer full system status as well as minor and major alarms.
High end construction. Welded painted frame, aluminum cabinet, brazed plate heat exchangers with strainer, and premium components.
Superior accessibility. Easy access to allow quick and easy maintenance. Rotolock threaded connections on the compressors mean no brazing required and a quick changeout should it be necessary.
Industry leading efficiency. ArcticChillers utilize brazed plate heat exchangers for the best heat transfer. Rather than "dip" a refrigerant coil in a holding tank , Arctic  uses a brazed plate heat exchanger which will transfer more heat out of the loop faster. More surface means less work by the chiller which equates to less energy consumed. Efficient!
From 2-30 tons we offer pre-engineered chillers for MRI, Linear Accelerators, PET Scans, CT Scans for Hitachi, GE, Philips, Aurora, Elekta.

We can also configure something to your job specifics using our process and/or modular products.
973-536-2220