Summary:
Air Cooled Turbocor Chillers- Efficient, Quite, Integral Water Side Economizers
Modular Chillers- Redundant, Heat-Pump and 6 pipe Systems. Air Cooled, Water Cooled
Complete Pump and Hydronic Packages Available
Custom Features Available!<
Call 973-536-2220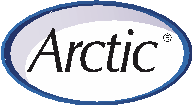 While Many Of The "Big Boys" Have Entered The Magnetic Bearing Compressor Market, Arctic Has Been Partnering With the Best Known, Turbocor since 2002 Giving Them A Serious Head Start.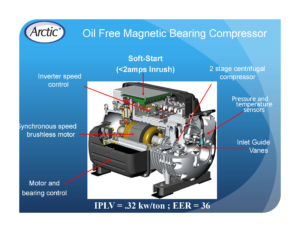 What are the advantages of the Turbocor?
This is an oil free compressor! There is a permanent magnet which allows the shaft to hover inside the housing (even if there is no power)
"No" Friction means superior in-rush amps at compressor startup (2 Amps per compressor)
Virtually Vibration Free
Very Efficient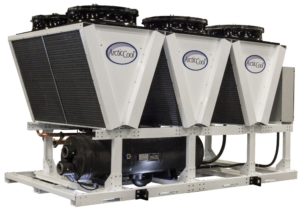 Did You Know You can get an Air Cooled Turbocor Chiller at incredible IPLV's? Considering that you are removing an extra pump, piping, tower and condenser approach, the first cost AND operating cost will meet or beat water cooled equipment. No water treatment is always a plus for a chiller system! Concerned about noise? Turbocor
compressors are quiet and  the Arcitic standard and optional fans will meet sound criteria for the stringent of neighborhood codes.  These units are quiet. Period.
The nice thing about these air cooled chillers is the factory can provide in 1 piece many of the components of the chilled water system, reducing construction time in the field. Units can have single/dual pump packages, glycol feeders, expansion tanks, and DDC controls. Furnish with a water side economizer and the chiller can run as a fluid cooler when the outdoor temperatures drop providing free cooling to the building!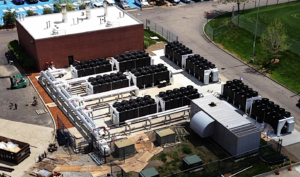 Still require a water cooled unit for your project? No problem, we have you covered.
Chillers are configurable to meet footprint requirements by flexible barrel and component arrangements. Like the idea of free cooling but having trouble adding an extra heat exchanger? ArcticBoost is a revolutionary system which utilizes a small refrigeration pump to keep the compressor in a safe part of its operation map to provide up to 80% capacity which using very little energy. Learn about  ArcticBoost_2019.
MODULAR
The ArctiChill division of the Arctic Chiller group builds modular chiller systems to solve many applications, including but not limited to:
Redundancy and N+1 applications. Each module has its own refrigeration circuit(s) and independent control and electrical connection. The system is engineered with a central panel which independently ties the system to work as one. Modules can be taken off line without taking down the plant.
Indoor units can fit through a 36" door for tight rigs.
Future plant growth. "Start" with 1 module and add as the building gets occupied, the process load increases or more racks at the data center fire up.
Units can operate as a heat pump; reject the heat to domestic hot-water, indoor pool heat, process hot water etc. Opt for a 6 pipe system to keep the cooling and heating performance constant.
Chillers are available Air Cooled, Water Cooled, Air Cooled Split and Water Cooled with Turbocor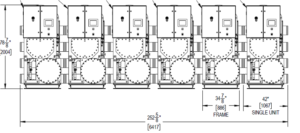 OTHER ARCTIC PRODUCTS
ArcticCool Turbocor Condensing units and split systems