CALL 973-536-2220

While Fabric Duct Is Best Known For Indoor Pools, There Are Many Applications Where You Can Be Successful:
Alternate For Spiral Duct With A 50% Cost Reduction
Warehouses
Manufacturing
Gymnasiums
Butler Buildings
Ice Rinks
Recording Studios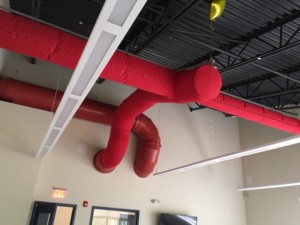 Why FabricAir?
Will Not Deflate When The Fan Is Off!
Unlike some of our competitors, FabricAir will Sew In Interior Support Rings which require no additional labor compared to the separate skeleton offered by others.
Available ½ Round or ¾ Round
8″-72+" Diameter
Easy and Quick Installation- No Sheet metal
Choice of Mounting options: Single Cable or "H" Rail for a cleaner look
Lightweight
Choice of Colors and Hole Pattern (Allow us to design the hole pattern based on floor height, air flow and other parameters)
Put Custom Graphics right on it!
Easy To Clean and Swap (ie, keep a spare and switch)
Custom Duct Sizes and Fittings To Achieve The Same Goal As Sheet Metal Duct Layout
Choice Of Mounting Options
Permeable Option Allows Self-Cleaning And Discourages Condensation
Quiet
Economical- only requires 0.5″ esp on the HVAC Fan
Call 973-536-2220 OR Contact Us