CALL 973-536-2220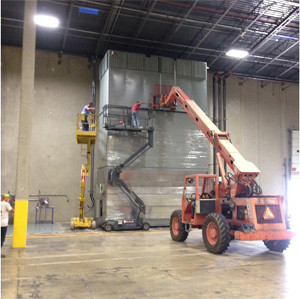 We Take Great Pride In Representing The Johnson Air Rotation Product!
While known for warehouses and manufacturing, we have incredible success in any application that is in an open space with high ceilings.
Why?
The Air Rotation Unit utilizes redundant unique backward inclined propellers that take advantage of high cfm, low static pressure as it will blow an enormous amount of air great distances without ductwork!
The Air Rotation Technology of supplying air along the ceiling and drawing the air below allows a continuous even temperature gradient. If all the design parameters are known the performance is guaranteed!
Air Rotation units are
Quiet- Standard Built or with Integral Sound Traps
Flexible: Indoor or Outdoor
Choice of Heat Options: Gas, Hot Water/Steam, Electric, Oil
Humidification and Dehumidification Options including Hot-Gas Reheat and Desiccant Options
Simple or DDC Controls
Economizers and 100% Outside Air Options
Jobs to consider:
Pharmaceuticals
Fulfillment Centers
Gymnasiums
Manufacturing
Warehouses, especially for product sensitive storage (wine, cheese, chocolate)
Any High Ceiling (>18 feet), large open area (requiring >10,000 cfm)