Project Description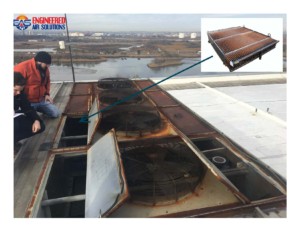 Got a call from a mechanical contractor who was looking to replace Evaporative condenser coils on an old Mammoth Unit in which he was having issues getting the OEM replacement. For a Class A office building, there was no room for error. Some vendors asked for them to pull the coil and send it to the factory. Some asked the mechanical to measure and take the responsibility.
We embraced the opportunity by going to the job site, taking measurements and coordinating with all the parties to get it right. This job had 2 units, each over 100 tons each requiring 16 rows of specialty fin-less copper tubes. We tagged the usual length, width and height plus the circuiting, connection points, connection sizes, just to name a few. We worked with the mechanical to make sure the coils were labeled correctly so the rig and installation can be smoothly done on a weekend before the cooling season started.
The feedback we got was it was done right and in a competitive way.
In addition to Evaporative Condenser coils, keep us in mind for air cooled condenser coils, replacement DX, hot water, chilled water, steam as well as duct coils. There is more than what meets the eye in some cases, and by taking the time to do it right, we can make sure the install can be quick and the performance is reliable.