Stocked Dehumidifiers: (desiccant below)
While we are known for built to order Dehumidifiers, it should be known that our factories stock more incremental stocked units for basements, storage and small processes.
There are 2 things to look for in dehumidification: The Load and The Dewpoint.
The Load, is how much water the unit can pull out of the air and is rated in Pints/hour, Pints/Day, Gallons/Day or LBS/hour. To keep everything level, the following list are all listed in LBS/hr (#/hr) but can be converted to any of the aforementioned descriptions.
The Dewpoint is how dry the machine air needs to be. Fundamentally there are 2 ways of dehumidification; mechanical and desiccant. While desiccant has no limits, a mechanical is limited to about 50-55 dewpoint.
Keep in mind that most dehumidifiers add some heat in the space! For a cold basement that may be fine, but for comfort conditioning, please keep that in mind.
Here are our options:
Mechanical:
Desiccant
NovelAire units provide many varieties of Desiccant units that are available quickly:
THIS IS JUST OUR "OFF THE SHELF UNITS"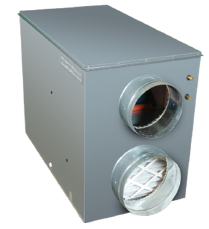 –          DH-55: 1.2#/hr (no drain needed!; 115v)
–          Comfortdry 250: 4.4#/hr (115v, uses hot water to reactivate the desiccant)
–          DES DX/300: 9#/hour, 115Volt, DRY NEUTRAL AIR!
UNITS UP TO 16,000 CFM AVAILABLE ON A BUILT TO ORDER BASIS: LEARN MORE
Don't be confused! There are a lot of choices but we can help you select the proper one.
Click here for unbiased information of how these units work or contact us! 973-536-2220
good-better-best of dehumidification