Call 973-536-2220
Warehouses, Distribution Centers and Manufacturing Facilities HVAC Systems are unique due to the fact that the space typically is large and open with very high ceilings. Some Warehouse HVAC systems only require basic inexpensive heat but some require precision temperature and humidity control for product sensitive storage. Engineered Air Solutions have partnered with many manufacturers to provide the right equipment at the right price in the right time frame. We understand the different needs for different applications:
PRODUCT SENSITIVE STORAGE/ PREMIUM HVAC
Johnson Air Rotation Systems: The cadillac of HVAC systems for open spaces, these u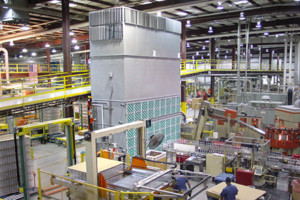 nits will match the ceiling height and provide precise Heating, Cooling, and Humidification Control. Because we pull the air from below and distribute high, as the name suggests, the air rotates in a uniform fashion allowing only a 1 degree temperature gradient for every 10 feet vertical (horizontally its uniform). Despite its large size, its very quiet and it is not drafty. Units can throw upto 250 feet (350 feet heating only models) and can deliver 450 tons each (6.2MMBH heat). We are so confident in this product, if all the details of the space are provides, we will guarantee the performance!

AIR CURTAINS: Required in many cases to not allow bugs, it is also useful in providing a thermal barrier when dock door are open. We can provide protection of openings of up to 80 feet high and near unlimited width.
Humidification/De-Humidification Products: As standalone or part of an HVAC package, we can provide the proper equipment to bring the RH down in the summer and up in the winter.
SIMPLE:
Most Warehouses are simply a cinder-block wall, simple truss and low R-Value Roof and the goal is to not have the sprinkler heads freeze in the winter. Allow us to provide:
DIRECT FIRED MAKE UP AIR UNITS: Bring in 100% outside Air and the direct fired burners will maintain 55 in the space with 99.9% efficiency. Units are typically roof mounted and come with distribution heads. We can provide Louvers or Exhaust Fans to allow the air to exhaust the air out.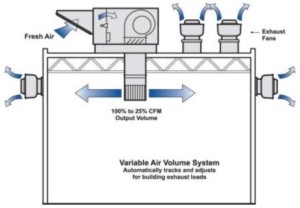 DIRECT FIRED STAND UP UNITS: Similar to the Roof mounted unit, the units sit inside the space and are typically larger CFM which require no structural steel on the roof, and because they are larger, one can use less pieces (sometimes 1 or 2 for redundancy)
DIRECT FIRED 80/20: Roof Mounted and will recirculate up to 80% air, allowing only 20%  outside air to be required. This way you don't need to constantly heat up the outside air which effectively lower your energy usage.
SIMPLE PLUS:
If there are people in the space but its still only a heating application here are other products to consider:
INFRARED HEAT: Perhaps one of the most underused technologies out there, (its been around since the 1920's), infrared heat uses the same process as the sun: it beams the heat onto spaces. In other words- you can maintain your space at 55, but the people in the space will feel the glow of the heater, feeling warmer.
Infrared Heat is also perfect at dock doors to prevent ice formation from trucks entering and leaving.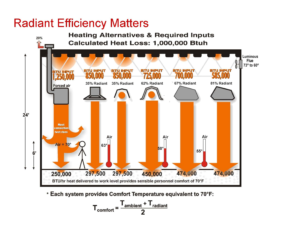 HIGH VOLUME, LOW SPEED FAN (HVLS): Up to 24 Feet in diameter, these fan utilize ECM motors and can move 400,000 cfm! The result is pushing the warm air down in the winter and moving the air around to provide comfort to those present in the space.

Ask Us About Retrofitting A Warehouse To A New Purpose!
Do You Have Unit Heaters Where The Hot Air Stratifies? HVLS Fans or Add an Air Rotation Unit!
Do You Have Rooftop Packaged Units and The Space Is Not Cool? Fabric Duct!
Need To Add Cooling To the Space? Johnson Air Rotation Or Call For Other Options!
Looking For LEED or Rebates? Contact Us!
Have Something Unconventional Or Need Some Help? Contact Us!